Dependable RV, Boat & Trailer Storage
Crossriver RV Storage is located in Sun City, AZ, and provides secure and convenient storage solutions for campers, motorhomes, boats, trailers, and more. Our unique combination of security and professional services makes us much more than your typical storage lot. Contact us today at (623) 226-8430 to find out more.
Committed to Spacious, Secure & Customer-Focused Storage
At Crossriver RV Storage, we strive to deliver vehicle storage services that truly set us apart. Our commitment to security is ironclad, with our 2.5 acre lot boasting security lighting and cameras, a 30-foot double gate, employee supervision 7 days a week, and more.
Security lights and cameras
2.5 acre fenced and secured lot
30-foot entry gate
7-day per week supervision
Extra wide parking spaces
Clean, compacted ground asphalt lot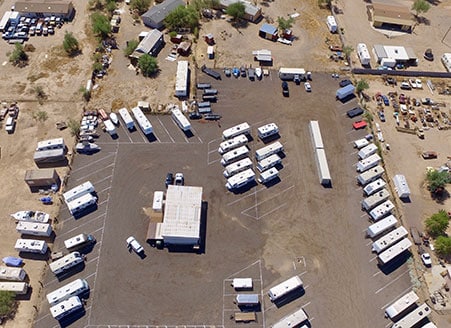 In addition to our top-notch storage solutions, we offer maintenance services right at our facility. That means you can have the wiring on your RV or trailer fixed simply by calling us to request the work be completed. Say goodbye to the inconvenience of taking your unit from shop to shop for minor repairs. Have all the work here at Crossriver. Our maintenance services include the following and more:
Tail light replacement
Plumbing leak repairs
Valet parking
Lock, door, and handle repairs
Battery replacement
Much more!
Crossriver RV Storage is located in Sun City, AZ. For more information about our RV, boat, and trailer storage services, contact us today at (623) 226-8430.